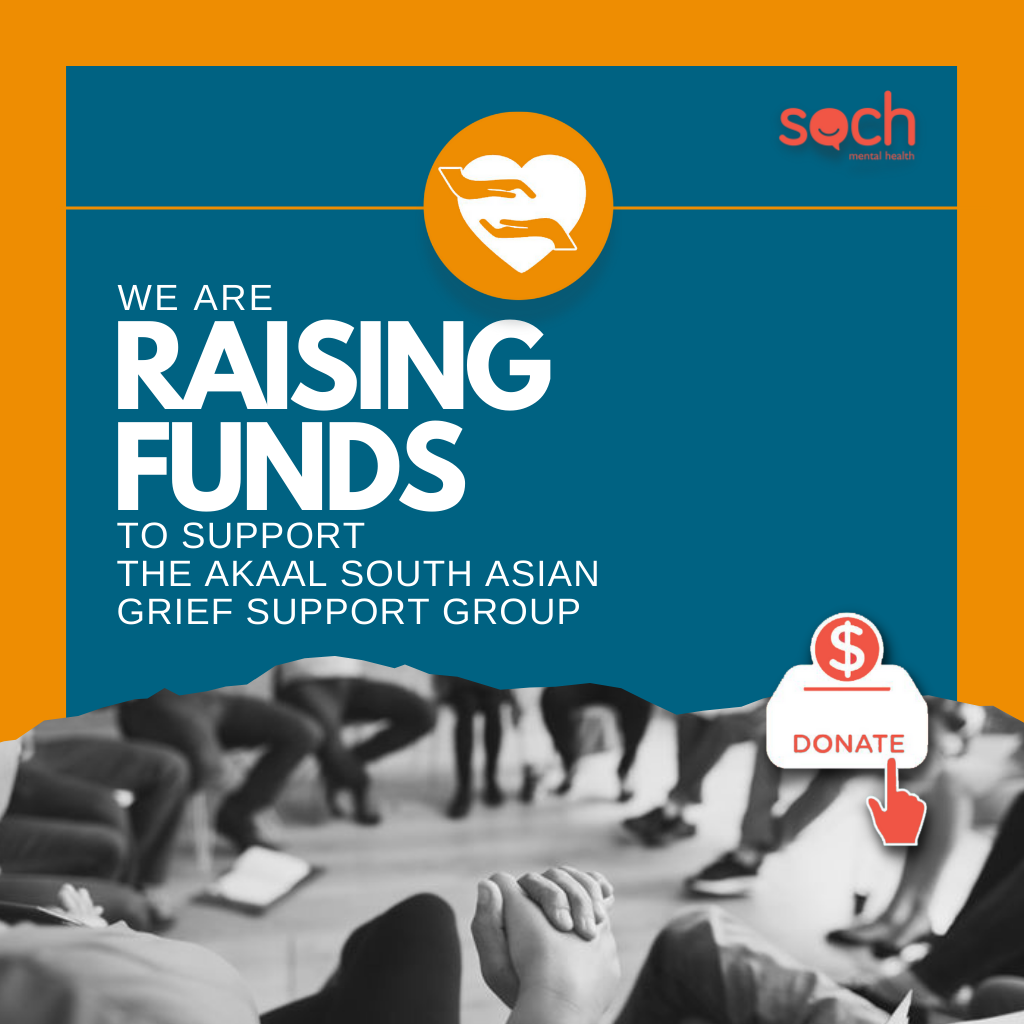 WINTER 2022 SESSION SOLD OUT IN 2 DAYS!
Soch Mental Health successfully ran the South Asian grief support group in Fall of 2019 and Winter of 2020. In collaboration with Brampton Crematorium & Visitation Centre, this support group was delivered in English & Punjabi to support those in the South Asian Punjabi-speaking community that were dealing with grief, in a culturally and linguistically relevant manner. These groups were capped at 15 participants and we are proud to have successfully supported 28 grieving family members.
Today, we are raising funds to increase the frequency of this program to reach a larger audience as well as offer the program at convenient and accessible times, that meet the community's needs. We recognize the impact of the pandemic and the significant loss of lives experienced by the South Asian community who are in dire need of this group to resume and be offered on a larger scale.
We are honoured to announce that we have received financial support from the Registered Nurses' Foundation of Ontario (RNFOO) to relaunch the Akaal grief support group in January 2022. We have also secured sponsorship by The Brampton Crematorium and Visitation Centre. Our fundraising initiatives don't stop there. We are still in need of community financial support to ensure we keep the program costs free for participants.
NEXT SESSION STARTS IN MARCH 2022.
Watch in Punjabi
Watch in English
COST BREAKDOWN FOR THE SUPPORT PROGRAM
One support group program is 6 weeks long, allowing 15 group members to attend, provides the option for 1:1 support for all members for the entire duration of the program. The cost for this support program is approximately $9000.
The average cost for one person to attend the full program is $600.
To date, we have secured $14,600 in funding from RNFOO which supported the initial relaunching costs for January 2022. We are seeking funding for an additional 4 rounds of the group in 2022 which will cost $36,000. We are grateful to The Brampton Crematorium and Visitation Centre who have sponsored the program with a donation of $15,000. We are actively seeking an additional $18,000 in funding through sponsorships, grants, and community support.
Soch Mental Health is a registered not for profit. 100% of your gift will go directly to the proposed Akaal Grief Support project. Please note, a charitable receipt is not issued for gifts to not for profits. Soch believes in transparency and adheres to the Canada Revenue Agency rules and regulations that govern not for profits organizations.
DETAILS ABOUT THE AKAAL SUPPORT GROUP
The Akaal – South Asian Grief Support Group is a virtual 6-week, closed program that is offered in English and Punjabi. In Punjabi, Akaal means timeless, immortal, non-temporal, and is a foundational element of our support group where we learn to grieve in a manner to keep our loved ones alive. Each group is capped at 15 participants to maximize group engagement.
The Goal: The support group aims to provide the Punjabi community with a culturally and linguistically inclusive space to connect with other individuals who have experienced a loss while receiving emotional support, validation, and education about grief.
The Outcomes
An opportunity to explore, understand and work through feelings of grief.
Application of practical strategies to manage grief based on socio-cultural norms and beliefs.
Emotional support in a culturally and linguistically inclusive space honouring South Asian values.
A decrease in feelings of isolation through a supportive network of other South Asian community members who are experiencing grief.
A little bit about our holistic journey to heal from grief…
Program Outline
Week 1: Topic: Introduction. Session Goal: Creating a Safe Space
Week 2: Topic: Understanding Grief. Session Goal: Everyone grieves differently. Give yourself permission to grieve in your own way.
Week 3: Topic: Coping with Grief. Session Goal: Learning healthy coping
Week 4: Topic: Self-care & Grief. Session Goal: Learning to take care of yourself
Week 5: Topic: Managing Relationships. Session Goal. Listen to your heart when figuring out how to manage social relationships during a time of loss.
Week 6: Topic: Channeling Our Grief. Session Goal: Learning to honour our loved one by channeling our grief through the community.
Our Impact