SOCH was featured on New Canadian Media. Read the full article here.
---
The Brampton-based mental health organization SOCH focuses on addressing the stigma that South Asian men in Ontario face when dealing with mental health.
Jeevan Dhaliwal's journey with mental health was not easy, but his struggles have fueled his passion to help men in Ontario's South Asian community, especially during the COVID-19 pandemic.
Dhaliwal, 30, helps to run the men's forum at SOCH, a Brampton-based mental health organization aimed at informing the South Asian community about mental health which launched Nov. 26 with a virtual meeting. The conversation is focused on suicidal thoughts and self-harm.
According to the Canadian Mental Health Association, the second wave of COVID-19 has raised levels of stress and suicidal thoughts in Ontario. SOCH officially launched in 2015 with its first workshop in Downtown Brampton and has since been addressing mental health issues in the South Asian Community.
"We run monthly events to invite men to open up in a safe and comfortable environment," Dhaliwal said. "We aren't experts, but we've all had our struggles with mental health, so when we open up, others feel as though they can too."
Vulnerability in a pandemic
Medical researchers Dr. Vikram Thakur and Dr. Anu Jain's study on mental health during COVID-19 found that male deaths by suicide during the pandemic can be attributed to factors like finances, fear of infections, social stigma, anxiety and excessive regulation.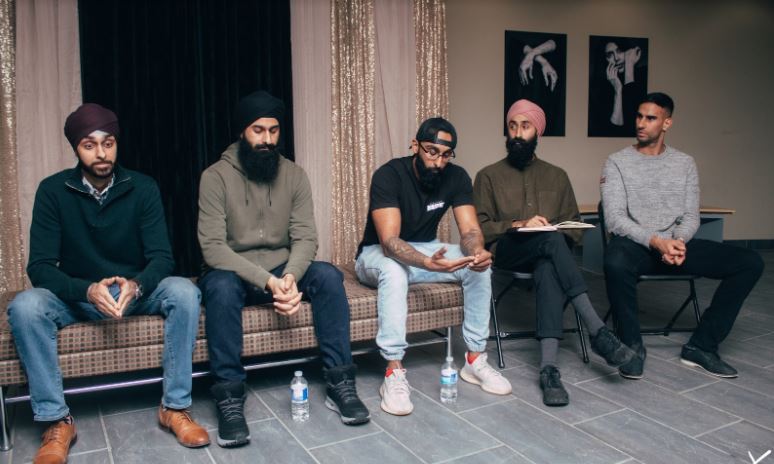 "It goes back to these stereotypes that men don't need to show emotions and weakness and they're told to keep everything together even when they're struggling," she said. "It has a domino effect on their family and how they treat others."
According to the CMHA, the mortality rate due to suicide among men is four times the rate among women, even though women are three to four times more likely to attempt it.
SOCH fills the gap for South Asian Men
SOCH, (a Hindi word ਸੋਚ which means "a thought") was founded by two mental health nurses, Maneet Chahal and Jasmeet Chaggeer, who wanted to change the way the South Asian community thinks about mental health.
knowledge about mental health.
Chahal said in an email interview that South Asian men face stigma when dealing with mental health, sharing that she and Chaggeer's own fathers struggled with mental health problems such as depression and alcoholism.
"We were disheartened by our personal and professional experience to see our community struggle with mental health, which was primarily due to a lack of culturally and linguistically appropriate mental health education," she said.
"When everything seems out of control, especially with the pandemic, it goes back to the basics," Raza said. "In some cases, the emotional pain is so great and makes people feel trapped that they decide to inflict physical pain on themselves because that's the only thing they can control."
For Dhaliwal, SOCH is vital for the South Asian community especially in light of the pandemic when many are isolated with family.
Dhaliwal explains that although family is part of their community, there is a negative stigma associated when family members experience setbacks such as a career failure. That individual or the family is regarded as the "black sheep," he said, which creates a reluctance to speak about mental health.
"Vulnerability is a key aspect in our growth as human beings, which is one of the best things about SOCH and the five men that lead the men's forum," he said.
A chance to open up
Three years ago, Dhaliwal said he drove to a dimly-lit but beautiful place, doused his car with gasoline, and was a few seconds away from lighting himself on fire when it began to rain.
"It's something I am so thankful about that the universe decided it wasn't the day for me," Dhaliwal said.
In the days leading up to his attempted suicide, he said he felt like a failure, despite having loving friends and family around him.
"I just felt like a burden on them and that I was doing damage by existing," he said. "I thought they deserved better than me."
Dhaliwal recalled the time his close friend had ended his life in 2013 by jumping in front of a moving train. He said that at the time he did not understand his friend's situation until he had gone through his own problems and done more research on the topic.
In an email interview, Jas Khehra said he's passionate about his involvement with SOCH because of his own mental health struggles, having attempted suicide three times.
"It's tough, when you have these daily suicidal thoughts," he said. "But there is help out there that can point you in the right direction and after a while, the feeling of giving up, it subsides."
After six years of hard work, sessions with mental health professionals, among other helpful solutions, Khehra now channels what he's learned in his work at SOCH, so other men don't feel alone.
"Truly, waking up each and every day is a blessing, to have the ability to breathe and to love yourself is more than enough."