Mindful Eating 101- For A Better Your in 2021
February 11, 2021 @ 7:00 pm

-

8:30 pm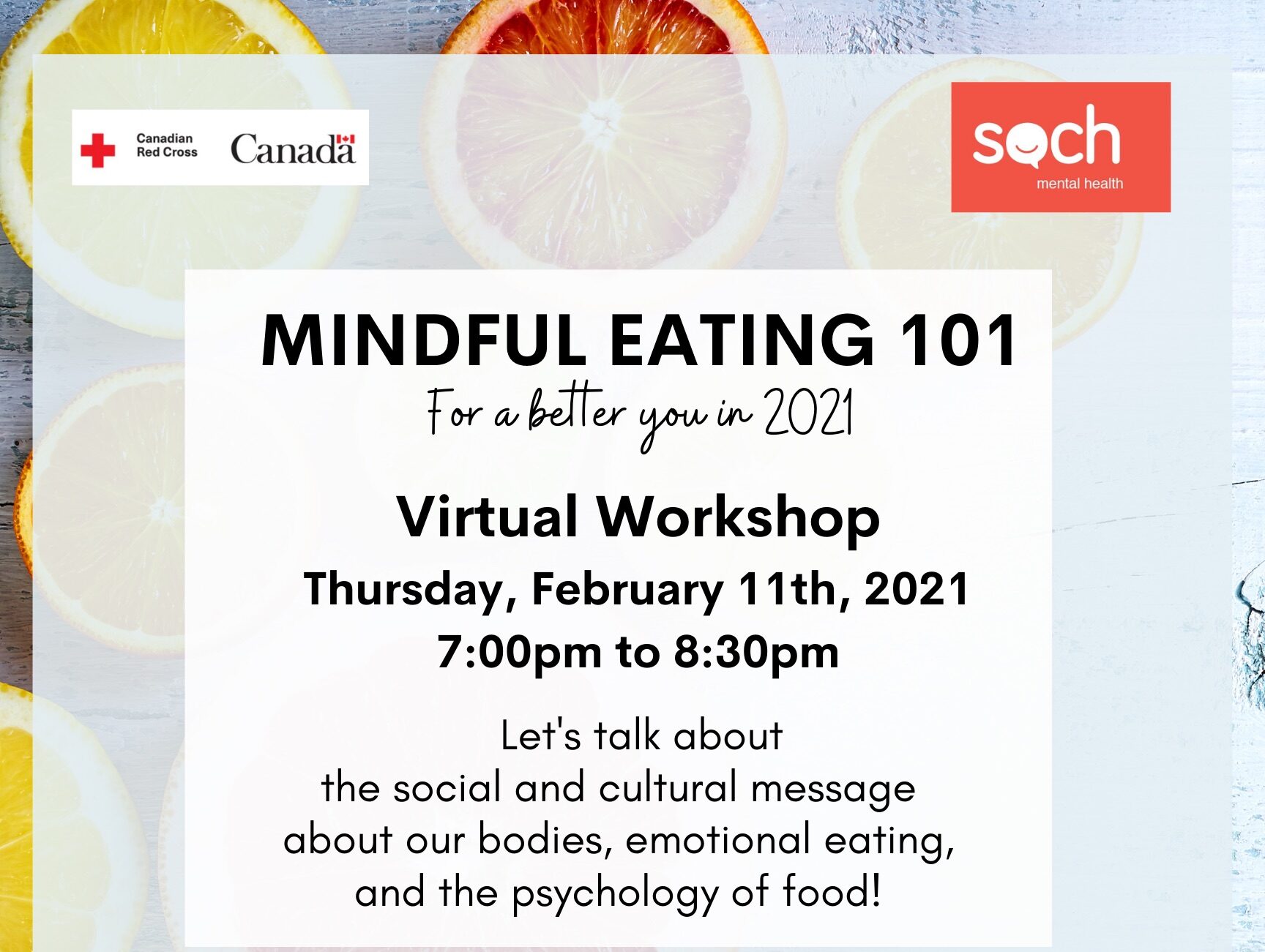 Let's talk about the social and cultural messages about our bodies, emotional eating, and the psychology of food, together!
About this Event
It's a new year! It's a perfect time to set some goals for a better you.
Mindful eating is about brining awareness and intention to our health and wellness when it comes to food and eating habits.
Let's talk about the social and cultural messages about our bodies, emotional eating and the psychology of food together!
*Cultivate your inner wisdom- learn to identify cravings
*Manage your triggers with mindfulness principles
*Understand physical hunger vs emotional hunger
*Cultivate outer wisdom- from mindless eating to healthy choices
*Learn to importance of self-forgiveness, and non-self-judgment.
Meet your facilitator: Parmjit Rathaur M.A. Registered Psychotherapist
Parmjit Rathaur is a Registered Psychotherapist practicing in Mississauga, ON. She provides Mindfulness counselling for south asian cultural issues / stress / emotional eating.
While she has had a dynamic career as a Clinical Consultant, Program Development and in community mental health; Parmjit's true passion is to bring Mindfulness to individual clients, schools and offices.
As a Registered Psychotherapist, Registered Nurse, and with a Masters Degree in Counselling Psychology, Parmjit's knowledge is grounded in cognitive psychology, medical sciences, and mindful wisdom.
Parmjit is certified in MBSR, and in MB-EAT (mindful eating.) Recent workshops include The Psychology of Sugar Addiction, The Science of Stress, Mindfulness for Classroom Calm.
Fluent in Punjabi and Hindi, Parmjit enjoys working with the Indian diaspora.
Away from the office, Parmjit enjoys motorcycling, Sufi poetry, traveling and experiencing different world cultures.